There is a lot written about reading being essential for success. But what is success? If I am able read, and retain every word in every book in every language of the world, would that be a success, even if possible? The current relationship of popular-culture with text, scripture, and all literature is that of data mining; to treat books like Facebook treats your wedding pictures. We are being told to devour as many as possible at all times. That is short-sighted and simplistic.
Why Read?
The value of reading as an activity is a hard sell. Especially in my part of the world. We have been fed 'being practical' as a means of success. Words have little 'practical application'. However in recent years, thanks to social media pushing 'guru' culture, reading is en vougue now. Books are now resources to mine, for 'practical' success. The sheer ridiculous nature of using knowledge as a way to achieve monetary success is lost on people. Everybody who reads 'Think and Grow Rich' has not grown rich, as far as I know.
The value of reading as an activity is beyond 'practical'. Reading is a leisure activity. It reduces stress. It calms the nerves. It helps you sleep. It is irrelevant whether you are reading a slave narrative from 1850s, make-up tips from your favorite Teen Magazine(do they still exist?), the latest in your fantasy novel series, or the earnings reports from your latest investment. Reading to enjoy is the only sound way of existing. Knowledge is a by-product. You can force yourself to read Capital in the 21st Century, or A Brief History of Time, or any other 'prestige' book that Bill Gates, or Elon Musk, or whatever digital guru posts on their social media. You can read a book to gain decades of experience in a few hours or to spark inspiration or to get lost in another world. Or you can just enjoy yourself.
The Books I Read in 2020
I did not have a theme, but a theme emerged anyway. Most of the books are about improving one self either mentally(Feeling Good, The Subtle Art of Not Giving a Fuck), or in terms of productivity*(The Checklist Manifesto*, Atomic Habits), or in terms expression(Show Your Work), or just improving the activity of reading itself(How to Read a Book). I did manage to read a pop-sci book in Sapiens, and I finished the year with Rework, which is about running a tech business, but not like a startup. In fiction, I read Youtuber Hank Green's brilliant but odd novels An Absolutely Remarkable Thing, and it's sequel A Beautifully Foolish Adventure. Though I would say it is a single book split in two. More on that in another post. I also read the first two Witcher short-story collections. I loved the video-games, and the Netflix TV show had just launched at the time. All of these books gave a lot of value to me. However the book that I loved the most was Susan Sontag acerbic collection of polemics against the camera essays, On Photography. Sontag's almost cynical poetic take-downs are more than relevant in the age of Instagram and TikTok.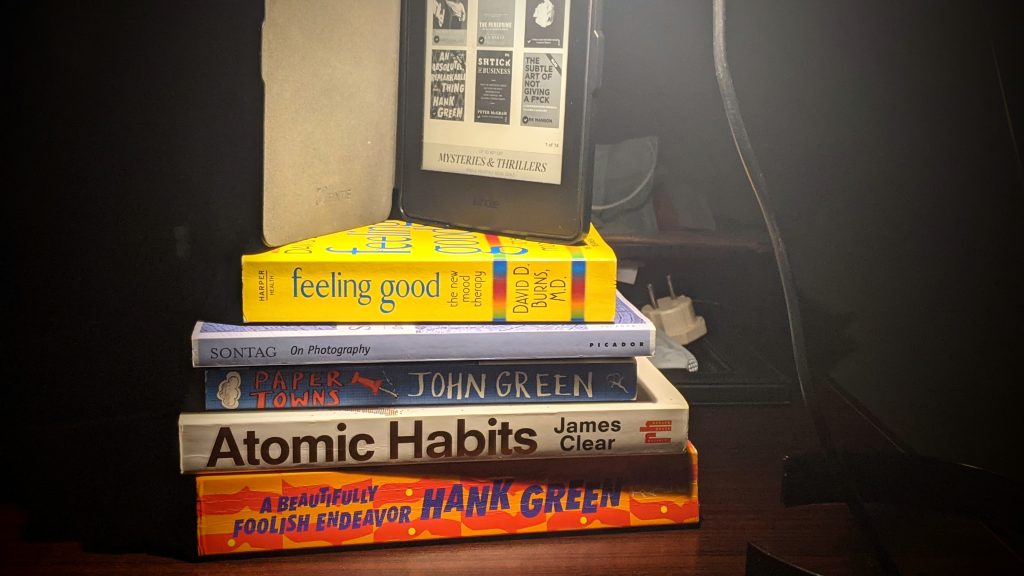 All told, I read 13 books, which is the highest number of books I have read in a year ever. But it is well below my goal of 24 books this year. I read most of them on my Kindle, as you can see in the picture. This has been a godsend. Besides not having access to many books I want to read, Kindle is just more convenient at night, especially when the baby was sleeping in our room. Night is when I do most of my reading. I have yet to find a better sleeping aid than a good book. And there isn't a worse way to contract insomnia than a boring book. That is to say there were many that I abandoned. This was the most important lesson I gained; when something isn't working for you, move on.
Not just books
The great 'secret' of our times is that books aren't the only place to for detailed knowledge. There are thousands. maybe millions of essays, columns, articles and blogs filled with wisdom, and ideas, just waiting to be read. There are short-stories and even excerpts from novels, even novellas, available for free. If nothing, Wikipedia has a wealth of information on thousands of topic.
Due to switching note taking apps, I can't be certain, but I took notes on about a 110 articles, essays and blogs. They range from the true nature of advertisement, to the exhortations of making good art, to the power of audio as a 'hot' medium, and many more. That does not include what I did not deem important enough to highlight or take notes on. I do not know why I never focused on this type of reading. It is a powerful way to satiate your curiosity, without much in the way of monetary cost.
What of it?
My goal was an exaggeration, as I already was a reader. The point of the exercise was to be more frequent. I did not read as many books as I wanted to, but it was still more than usual. And I enjoyed that time. That should be enough.