Hello Everyone
Welcome to Weekly Wisdom, your weekly dose of highlights, quotes and notes from my notebook. If you would like to receive this in your inbox, subscribe now.
I have yet another busy week so my Apple essay is on the back burner. **This week I'd like to share:
Who speaks English?: England is 10th in the rank of English speaking countries. I wrote about whom this language belongs to, the colonial legacy that has turned this language the lingua franca, and the correct way to say 'socialize'.
iMessage is not a service, it's a feature: Another one I wrote last year during my 30 days of blog series, I analyzed each of Apple's services, paid or otherwise, and analyze if they are bullet point features for their hardware offerings or full blown services that can be their own businesses. While this is formatted like a listicle, it has some of my best work.
---
This weeks wisdom:
On owning your own domain
I started writing on Medium. But this quote is what inspired me to get my own website. I even wrote down the possible domain names as notes next to this passage. Sadly, mudassir.com and chapra.com are still not available.
The beauty of owning your own turf is that you can do whatever you want with it. Your domain name is your domain.

—Austin Kleon, Show You Work!
Trying with Statistics
There is an XKCD for everything. This time; on the manipulation of statistics: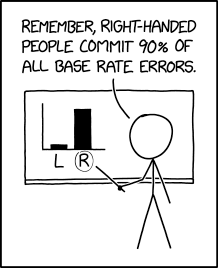 Of course the real joke is in the alt-text, as always:
Sure, you can talk about per-capita adjustment, but if you want to solve the problem, it's obvious that this is the group you need to focus on.
Time, perception and Beethoven
Beethoven wrote most of his symphonies at 108-130 beats per minute. That is quite fast. However he is usually performed at a much lower tempo. In this episode of Radio Lab, they discuss the human perception of time, and how we normalize all rhythm to around 94 bpm. Whether faster or slower.
---
Thank you for joining me this week. If you know some who might enjoy this, please forward this email to them. See you next week.
Mudassir Chapra